Eco-Friendly Pest Control In Rancho Santa Fe, CA
Rancho Santa Fe is a census-designated place where people who love the outdoors come to live. The climate here is often mild or warm and there are golf courses, trails, and mountains to enjoy when the sun is shining. While this is a primarily residential area, locals have tasty restaurants just minutes away in downtown and San Diego is a quick drive as well.
When it comes to eco-friendly pest control in Rancho Santa Fe, CA, that you can rely on, Allswell Here has the solutions. We are a locally owned company that is committed to safety at every turn. Our expert technicians follow an integrated approach to addressing your pest concerns and we follow a "chemicals last" motto no matter the situation. We meet the highest standards set forth by the Pest Licensing Board, offer general and specialty pest control, and even provide a 100% satisfaction guarantee. To schedule your free inspection, call us now!
Residential Pest Control In Rancho Santa Fe, CA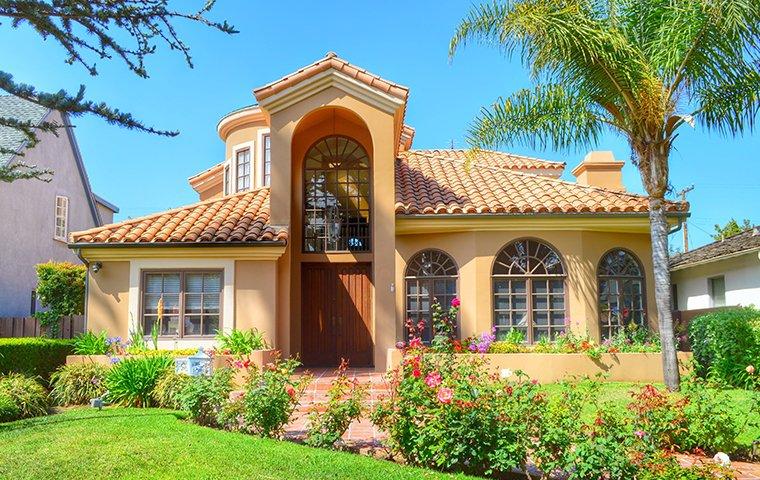 At Allswell Here, we deliver cutting-edge pest control in Rancho Santa Fe that will leave your home pest-free; we guarantee it. Our company meets exceptionally high safety standards and only uses EPA-approved products. We perform comprehensive home inspections both inside and out so that we can locate pest activity and susceptible areas. Once we have this information, we tailor a treatment plan that will eliminate and prevent future issues. We set a schedule for follow-up services that will help us achieve these goals, and by using essential oil-based products, our services are safe for families and the environment. For help with pest problems, call us today to learn more about our residential pest control services in Santa Fe.
Commercial Pest Control In Rancho Santa Fe, CA
When it comes to keeping damaging and harmful pests out of your Rancho Santa Fe business, we have the answers. At Allswell Here, we combine a background in pest control and property management in order to meet all of our commercial customers' needs. We are ready to service breweries, housing complexes, hotels, schools, and much more. Each of our customers benefits from a unique treatment plan and a team of expert technicians who use the latest technology and EPA-approved products. We strive to get at the root cause of your pest pressures so that we can prevent them in the long term. To learn more about how commercial pest control in Santa Fe can protect your business, call us today.
How Rancho Santa Fe Businesses Can Minimize Their Risk For Roaches
Cockroaches have the ability to pass along harmful pathogens to the residents of Rancho Santa Fe either through their skin alone or droppings. Some of these health risks include gastrointestinal issues, staphylococcus infections, and allergies. They can also be very challenging to get rid of, which is why prevention is so important. Here are a few things people can do to limit their exposure to roaches:
Be meticulous about food storage. Always keep food items in sealed containers rather than factory packaging.
Look for leaks proactively. Cockroaches need water to survive, so it's important to be on the lookout for leaks and fix any moisture issues that arise.
Keep things clean. Be diligent about home cleaning by scrubbing stovetops, counters, and floors routinely to eliminate food build-up.
Make your property inaccessible. It's important to seal off any gaps or openings that exist around your property. Fill in crevices around foundations with caulk and apply weatherstripping to loose doors and windows.
Know when to ask for help. With cockroaches, it's never too soon to bring in professional guidance. Working with a pest professional will afford property owners the benefit of top-shelf treatments and someone to monitor for the potential of roaches.
To experience fewer roach invasions, call Allswell Here today for more information on professional cockroach control in Santa Fe.
Why Rodents In Homes And Businesses In Rancho Santa Fe Need Treatment
When it comes to dealing with the rodents that infiltrate Rancho Santa Fe's homes and businesses, there is no substitute for professional services. A few of the reasons for that include:
The potential spread of health risks: One of the ways that professional help is significant is in its ability to mitigate people's exposure to possible health issues such as salmonellosis, rat-bite fever, and the spread of parasitic pests.
To prevent property damage: Another issue that professional pest control helps to address is the possibility of property damage. Rodents are known chewers and will nibble on anything from doors and molding to insulation. A pest expert can curb these problems before they get too bad.
The size and location of their infestations: Rodent nests are often located inside crawl spaces, walls, basements, and other areas of the home that most people can't access.
Prevention is challenging: Once a pest professional has eliminated a rodent infestation, they can perform preventive services to keep rodents from returning. Sometimes this includes installing exclusion, which is a highly effective way of keeping rodents outside of properties. It's also a difficult one because rodents can fit through openings that are the size of a pen cap, so it's best left to the pros.
For more information on professional rodent control in Santa Fe, call Allswell Here today.
Schedule Your Free Inspection Now!