Eco-Friendly Pest Control In Rancho Bernardo, CA
Rancho Bernardo is a planned community that's situated in the hills of San Diego. This area is home to a stunning golf course, water access to Lake Hodges, excellent schools, community centers, and a selection of restaurants and shops. Living in Rancho Bernardo affords residents a suburban experience while also having the city within close proximity. But even small communities like Rancho Bernardo are not immune to pest problems, which is why Allswell Here has your back.
We are a locally owned company that is dedicated to providing eco-friendly pest control in Rancho Bernardo to both businesses and homeowners. Countless customers entrust us with the safety of their properties because our technicians meet the highest quality standards, we take an integrated approach to treatment, each product we use is EPA-approved, and we always guarantee our results. To schedule your free inspection, please call us today.
Residential Pest Control In Rancho Bernardo, CA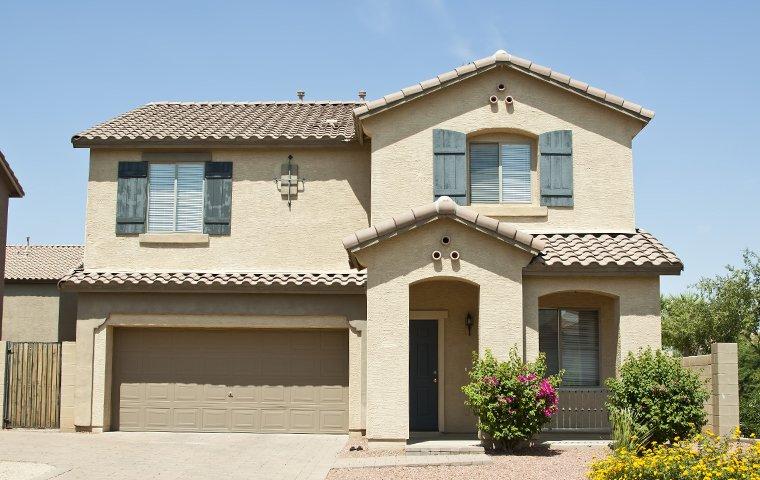 At Allswell Here, we want to help keep your Rancho Bernardo home free from pests with as little interruption to your daily life as possible. We are a local company composed of licensed and experienced pest experts. Because we take a holistic, integrative approach to your pest problems, we always start our visits by walking through your property to look for signs of pest activity and hear your concerns firsthand. We focus on eliminating features that attract pests while utilizing the latest technology and EPA-approved, eco-friendly products where you need them. We even offer essential oil-based products for our customers who prefer this option. And as always, we guarantee the results of our work. For more information on our residential pest control programs, please call us today.
Commercial Pest Control In Rancho Bernardo, CA
Pest problems are bad for business, but at Allswell Here, we can help protect your Rancho Bernardo property from pests. We are a locally owned and operated company that is fully licensed and staffs only the most qualified technicians. When you partner with us, you will benefit from our commitment to transparency and the environment. All of our services utilize eco-friendly, EPA-approved products in our "chemicals last" approach. Whether you operate a restaurant, hotel, or office space, we will provide you with a treatment plan that is built to your exact needs. By performing routine property inspections and monitoring the results of our services closely, we will be able to deliver results that we can guarantee. To learn more about our commercial pest control offerings, please call us today.
Cockroaches: A Dangerous Pest For Rancho Bernardo Homeowners
Cockroaches are stealthy and tenacious pests that can be particularly harmful for Rancho Bernardo homeowners to have present. To start, they are associated with a broad variety of bacteria and pathogens that are a health risk. Cockroaches are linked with health issues such as staphylococcus infections, listeriosis, E. coli infections, salmonellosis, gastrointestinal issues, and more. These issues spread most often when individuals ingest food that's been contaminated with shed skin or feces. Cockroaches can also irritate allergies and asthma in certain individuals due to the droppings and shed skin that they leave as well.
Their presence can also deliver an unsuspecting hazard because they can attract other pests that eat them. Some of the local pests that eat cockroaches include the venomous black widow and brown recluse spiders. Cockroaches can also be dangerous because of how stubborn their infestations are. The average female cockroach can lay one egg sac containing approximately 16 eggs at a time and nearly 14 sacs in her lifetime. In addition to the size of the infestation, cockroaches are also notoriously difficult to eliminate because of how little they can subsist on and the German cockroach's growing immunity to traditional treatments. For more information on cockroach control, call Allswell Here today.
5 Tips To Reduce Your Risk For Rodent Problems
The rodents in Rancho Bernardo can be quite troublesome, with their ability to spread hantavirus and cause considerable property damage. Here are five tried and true ways that you can reduce your exposure to these furry invaders:
Keep things clean. Food build-up and crumbs are some of the most enticing attractions to rodents, so making sure to disinfect counters and floors routinely is crucial. It's also important to take out the trash before it accumulates and vacuum floors to address any hidden crumbs.
Store food securely. To remove additional food sources, keep baking items, pet food, snacks, and leftovers in sealed containers.
Eliminate moisture. Rodents also seek a water source, so shut off faucets after using them, install a dehumidifier in the basement, and fix leaky pipes.
Close off entry points. You can also try to keep rodents out of your property by filling in the areas where they try to enter. That may entail applying weatherstripping to windows and doors and sealing cracks in your foundation with steel wool or wire mesh.
Work with a professional. The most reliable way to prevent rodent problems is with professional help from a pest expert who can provide services that aren't available at the store.
For more information on rodent control, call Allswell Here today.
Schedule Your Free Inspection Now!