Pest Control In North Park, CA
Of all the neighborhoods in San Diego, North Park is undoubtedly one of the best for a mix of art and culture and charming historic homes with a family-friendly atmosphere.
Residents and tourists alike have much to enjoy in this vibrant area, from visiting local museums and art galleries like the Museum of Photographic Arts, exploring the local craft beer scene at the local breweries and taprooms, or strolling through the trails and gardens at Balboa Park.
And what's more, North Park hosts various cultural festivals and events, including the North Park Festival of Arts and the local Farmers Market. No matter the time of year, the community always offers something unique.
But the area is also a hub for pests, which thrive in the warm weather and abundant food and shelter. If you feel that your home has become a refuge to scavengers, insects, wood-destroying invaders, and more, Allswell Here provides top-rated pest control in North Park to keep your residential and commercial properties safe year-round.
Residential Pest Control In North Park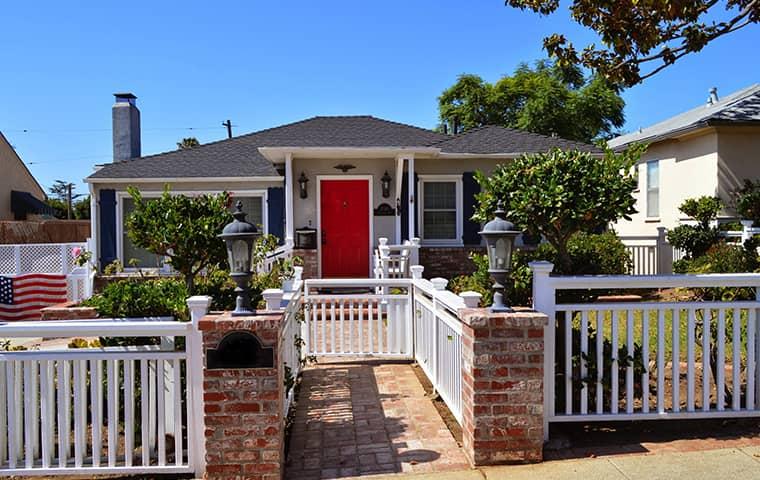 You can do your best to keep pests out of your home, but without the proper tools and training, being consistently successful can be challenging. If unwanted invaders have managed to settle on your property despite your best efforts, we can help you eliminate them safely.
Letting infestations get worse can expose you to dangerous pathogens and make the structure of your home unsafe, but you might have concerns about the safety of treatments. For this reason, we designed our residential pest control program to keep your home safe and clean using eco-friendly, holistic, but highly effective products and strategies so you can rest assured that we are being tough on cockroaches, termites, and other pests while being harmless for your family. And we strive to use chemicals as a last resort.
Contact us today to schedule a home inspection, tell us more about the issues you are dealing with, and share your concerns and questions. This process will allow us to determine the best course of action for your unique situation. Call us today to learn more about our methods and the various options we offer, including essential oil-based products, should this be your preference.
Commercial Pest Control In North Park
A pest infestation on your commercial property can quickly lead to panic, as these invaders can cause property destruction, drive customers away, make your staff sick, and destroy inventory. Because pest problems are so common in businesses, we offer a tailored and customized approach to the issue, including proactive measures and monitoring.
Our team of licensed service technicians has experience working with many different industries, including breweries, healthcare facilities, restaurants, and more. And, our commercial pest control strategies are time-tested, science-based, and eco-friendly. We care about removing your current problem and preventing it from returning, so you are less likely to need future treatments. Contact us to tell us more about your North Park business and get started today.
Cockroaches Control In North Park
Not only are cockroaches extremely common in California, but they also reproduce quickly. They will readily spread pathogens they pick up in the most unsanitary places around your home and could potentially make everyone very sick. In North Park, you will most likely encounter German cockroaches, but you might have to deal with larger American roaches as well.
At Allswell Here, we start every treatment with an inspection to ensure we address the entire issue from the get-go. We will show you what you can do on your end so that treatments are as successful as possible, including prevention practices like cleaning, eliminating water sources, removing access points, and more.
We will add to your efforts with one or more of the following strategies:
Safe control baits
Sticky traps
Fogging machines
Crack and crevice bait applicators
Dust for wall voids
The techniques we use will depend on your situation. Call us today to schedule an inspection and find out which cockroach control strategies will be best for you.
Spider Control In North Park
The list of California spiders that can take over your property is very long, as the conditions are excellent for these arachnids to multiply. Some are venomous, like the black widow, brown recluse, and brown widow, and some are relatively harmless, like the garden spider and the orb spider. Regardless of how dangerous they are, you might prefer to avoid having them in your home.
Spiders can come in for various reasons, but they usually have to do with them finding food, water, or shelter on your property. At Allswell Here, we can help you identify the factors that led to an infestation and show you how to eliminate it safely and for good. Contact us today to see how our Integrated Pest Management methods and other advanced pest control solutions can make your home spider-free year-round.
Whether you want to get rid of spiders, cockroaches, rodents, or other types of nuisance pests, our team has safe and effective prevention and control strategies to make your home safe all year long.
Schedule Your Free Inspection Now!