Reliable Pest Control Services In Clairemont, CA
Clairemont, CA, is an exciting community within the city of San Diego. Home to around 82,000 people, Clairemont provides a lovely suburban feel while offering easy access to all the excitement of the city that surrounds us. Whatever kind of property you own here in Clairemont, you should know that you are vulnerable to experiencing a pest infestation, and that can come with a long list of negative consequences. If you are looking for year-round pest control in Clairemont, look no further than the team at Allswell Here.
We are a family-owned and operated company that is proud to provide complete pest control to homes and businesses throughout Clairemont and the surrounding areas. Our goal is to give you pest-free peace of mind, and our mission is to provide full-circle pest solutions that keep the community safe and pest-free.
No matter what pest problem you're up against, we're here to give you your space back and keep pest activity away all year long. We don't just treat; we prevent pest activity, bringing you customized solutions for ants, rodents, spiders, snails, beetles, ticks, silverfish, termites, wasps, scorpions, and other common area intruders. Contact us today to request your free estimate and inspection.
Home Pest Control In Clairemont, CA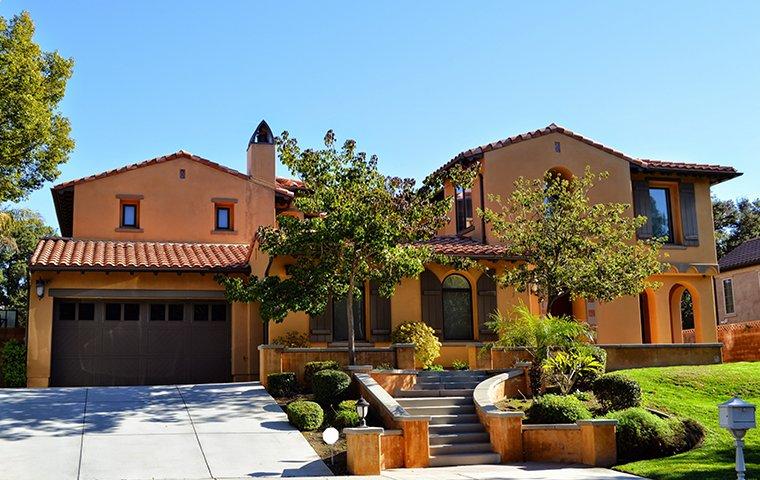 You can count on us if you want to protect your Clairemont home from household pest infestation. Our residential pest control process is thorough and customized to meet your needs. To start, we conduct a full inspection wherein we check areas where you saw pests, locate entry points, and evaluate vulnerable areas in the home and yard. After that, the technician explains their findings and discusses the details of the treatment options. We'll provide an estimate for immediate treatment and ongoing maintenance. After customer approval, we start the treatment process right away.
One licensed technician is dedicated to your account the whole time, so you have a permanently designated service provider. When you go with Allswell Here, you can trust that you're in good hands. We train each of our service professionals to the highest standards set forth by the Pest Licensing Board. Our experienced techs take into consideration all cultural, biological, chemical, and physical factors to help you prevent pests in the future. We also offer a 100% unconditional satisfaction guarantee that promises free re-treatment should pests return between service visits. Reach out today to learn more.
Commercial Pest Control In Clairemont, CA
Allswell Here is proud to protect local businesses from pest infestation. Our commercial pest control solutions serve a variety of companies, office spaces, event spaces, hair salons, and healthcare facilities. We take a holistic approach to our treatments, only using the most natural and safe pest control products on the market. Our chemical-free options are natural and eco-friendly, and we take an integrative approach that focuses on the entire pest life cycle. Once we complete the treatment, we offer weekly or monthly follow-up services to keep your business safe moving forward. Contact us to get started.
How To Get Rid Of Cockroaches In Your Clairemont Home
Cockroaches are bacteria-ridden intruders that spread pathogens around your home. They lead to widespread contamination that can lead to a long list of diseases. If you want to reduce your exposure to cockroaches, there are a number of things you can do.
To prevent cockroaches from entering your home, apply weather stripping around windows and doors. Eliminate sources of excess moisture in and around the property. Install dehumidifiers in moisture-rich areas like the kitchen, bathroom, and basement. You should also reduce clutter and make sure to vacuum the floor and under the furniture. Be sure to sweep beneath the stove and the refrigerator regularly.
At the end of the day, the only guaranteed way to get rid of cockroaches in your Clairemont home is to seek help from a professional pest control company. That's why we're here. Allswell Here is dedicated to eliminating roaches from your property and keeping them away all year long. Get in touch with us to get started. We're here to help you with all your cockroach control and prevention needs.
Why You Should Get Rid Of Fleas In Clairemont
As vector pests, fleas can transmit a variety of diseases to their hosts. They feed on the blood of mammals and birds, their preference being furry or hairy hosts who they can easily latch onto and stay put. If an infected flea then bites your or your pets, the disease can potentially transmit to you. Some of these conditions can be very serious, like Lyme disease, tularemia, and ehrlichiosis, just to name a few.
To effectively protect yourself and those you love from these health conditions, minimizing your exposure to fleas is important. However, this is very hard to do on your own. That's why we're here to help. Allswell Here provides comprehensive flea control services you can count on all year long. Call us today to learn more. Professional pest control is the only guaranteed way to get rid of fleas in Clairmont.
Schedule Your Free Inspection Now!