Pest Control In Carmel Valley, CA
If you look up the definition of perfection in the dictionary, you will likely discover a picture of Carmel Valley, California. Rolling hills, grape vines, and gorgeous hiking and horseback riding trails intertwine our beautiful community. Carmel Valley is a place people dream of visiting and people love to call home!
The beautiful outdoor spaces we are lucky enough to enjoy in Carmel Valley are also home to many insects, spiders, and rodents. Unfortunately, those critters don't just stay in the great outdoors; they regularly find their way into our yards, homes, and businesses.
To keep unwanted pests in our region from becoming a problem for residents in Carmel Valley, Allswell Here offers local, effective, dependable pest control solutions. Our pest control offerings will help you maintain a healthy, pest-free environment in your home or business. To learn about the best pest control in Monterey County, please keep reading.
Residential Pest Control In Carmel Valley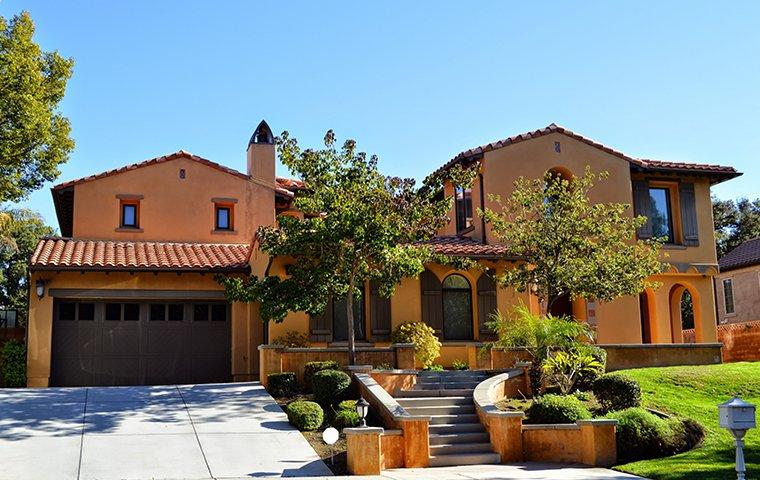 While we all love to share our homes with family, friends, and pets, we don't love to share our homes with pests - and for good reason! Not only are pests unsightly and annoying to deal with, but they are dangerous and destructive. Insects, spiders, and rodents belong outside, not inside our Carmel Valley kitchens, bathrooms, and crawl spaces.
At Allswell Here, we are dedicated to serving our neighbors, removing pests, and leaving behind an environment that is safer and healthier for you and your family. By performing thorough inspections, developing a treatment plan, and using either EPA-approved or essential oil-based products, we will work closely with you to solve your home's pest problems. For residential pest control services in Carmel Valley, turn to the local professionals at Allswell Here. We are here to provide you with a pest-free peace of mind!
Commercial Pest Control In Carmel Valley
Running your own business is not for the faint at heart. You have to learn to juggle many different things every single day. Something you can easily take off your very full plate is pest control. Partnering with a professional to care for your business's pest control needs is the easiest and most stress-free way to maintain a pest-free commercial property in Carmel Valley, CA.
Pests can cause various problems in any business, including spreading disease, contaminating food, damaging inventory, driving away customers, and damaging your business's reputation. At Allswell Here, we understand how big of an impact pests can have on your business and are committed to helping you keep them away.
We use proven methods to control, eliminate, and prevent the return of pests. Using Integrated Pest Management and eco-friendly products, our professionals treat the pest's lifecycle, ensuring a complete solution to any pest problem. For more information about our quality commercial pest control services in Carmel Valley, please contact us today!
All You Need To Know About Cockroaches In Carmel Valley
The biggest thing you need to know about any type of cockroach in Carmel Valley is that they should not be allowed to be in your home or business for any amount of time.
Cockroaches are scavengers by nature and constantly come into contact with disease-causing pathogens, parasites, and bacteria that they spread wherever they travel. Having cockroaches inside your house or business poses a significant health threat.
Cockroaches are pests that can adapt to almost any living condition and can feed on almost anything, making them difficult to control. They move from structure to structure by hitchhiking in deliveries, boxes, luggage, bags, and secondhand items like furniture, electronics, and appliances. Once inside, they will hide their flat, oval bodies in dark cracks and crevices, in boxes, in the backs of drawers or cabinets, and within areas of clutter. Their ability to initially remain hidden allows them to create large populations before they are finally noticed.
Because no Carmel Valley home or business is safe from cockroaches, being proactive and scheduling regular pest control services is the best way to avoid a full-blown cockroach infestation. Please call today to learn more about cockroach control in Carmel Valley!
Rodent Repellent Methods for Carmel Valley Homes
Keeping rodents away from our homes is difficult because they like to live near people and want to call our houses home. Rodents are inquisitive critters and have learned that wherever people live or spend time will likely provide them with the sources of food, water, and shelter they need to thrive.
Since rodents are such a common pest problem, understanding how to deter them and how to make your property less appealing to rodents is essential.
Reduce food odors near your home that will attract the attention of rodents- keep lids on trashcans, pick up uneaten pet food, and keep gardens maintained.
Eliminate water sources by keeping gutters clear, fixing dripping pipes, and removing areas of standing water.
Inspect and repair cracks and other defects in your home's exterior that could provide entrances and exit points.
Install door sweeps, make sure weather stripping is intact, and place mesh screen over vents and drains leading into your home.
Rodents have a powerful sense of smell. You can help to repel rodents by using the following things in and around your home that they view as unpleasant smelling- lavender oil, peppermint oil, dryer sheets, cloves, and vinegar.
While rodent control isn't guaranteed and isn't necessarily a reason to bring a cat or dog into your home, their presence can help to repel rodents.
In addition to the above tips, partnering with us at Allswell Here is the best way to get rid of rodents and keep them away for good. For information about our targeted rodent control services in Carmel Valley, don't hesitate to give us a call!
Schedule Your Free Inspection Now!