Comprehensive Pest Control In Cardiff-by-the-Sea, CA
Cardiff-by-the-Sea is a quaint beach community that overlooks some of Southern California's most scenic waterfront. Residents of Cardiff-by-the-Sea have unfettered access to beaches, watersports, marinas, and any other water activity imaginable. The area also boasts walking and bike paths, seafood grills, cozy neighborhoods, and good public schools, which make Cardiff-by-the-Sea ideal for young professionals and families. But along with seasonal warmth and access to water comes continuous opportunities for pests to become an issue.
At Allswell Here, we provide comprehensive pest control in San Diego County that meets the highest safety and best practices standards. Our team has a combined background of 20 years of experience, and we always use sustainable, cutting-edge methods when treating a home or place of business. We believe that transparency is key and everything that we do is in hopes of building lasting relationships with each of our customers. For more information on our pest control offerings, please contact us today.
Residential Pest Control In Cardiff by the Sea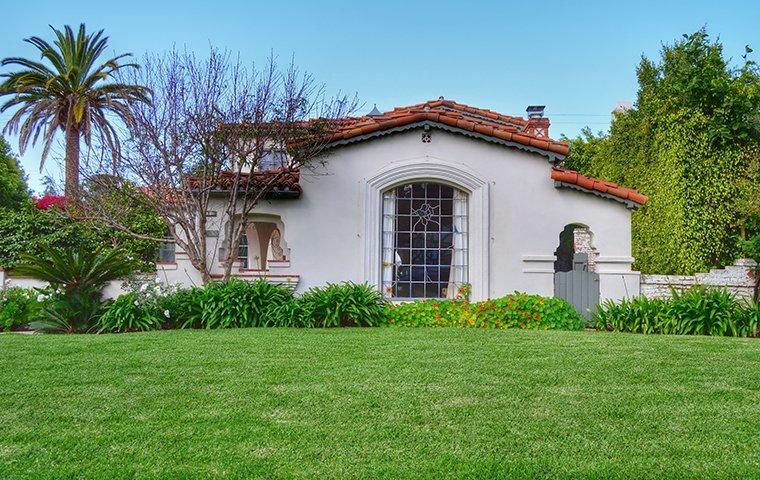 At Allswell Here, we understand how stressful dealing with pest problems can be, which is why we're dedicated to bringing Cardiff-by-the-Sea homeowners impeccable pest control services. We bring more than 20 years of experience to each home and we always prioritize transparency and make you part of the process. Regardless of the service you require, we will always use eco-friendly, EPA-approved products and sustainable, cutting-edge practices.
Our process entails detailed home inspections, discussions about our findings, and a customized treatment plan that follows an integrated approach. In order to create a completely pest-free living environment, we typically recommend some form of recurring service throughout the year. In addition to our general pest control in Cardiff-by-the-Sea, we also offer targeted solutions for cockroaches and rodents so that you are always protected from pests. To learn more about the benefits of residential pest control in Cardiff by the Sea, please call us today.
Commercial Pest Control In Cardiff by the Sea
When pest problems happen in your Cardiff-by-the-Sea commercial property, they can be bad for business. At Allswell Here, we provide discreet and effective pest control solutions for a variety of area businesses, including restaurants, offices, breweries, real estate, and event spaces. Our team brings more than two decades of experience to your property in order to deliver the highest level of service possible. We opt for non-invasive, sustainable methods of treatment that follow a holistic approach.
Our licensed pest technicians will always perform a comprehensive assessment during each visit so that we are always fully aware of the status of pests on your property. We also customize a treatment plan to your specific needs and monitor the results closely so that we can make any adjustments where they're needed. That's why we say, "You Name It; We'll Allswell It!" For more information on our Cardiff by the Sea commercial pest control offerings, please call us today.
Cardiff by the Sea Homeowners' Step-By-Step Ant Control Guide
Rather than allow ants to become an issue in your Cardiff-by-the-Sea home, try the following steps:
It's important to start by acknowledging the cracks and openings that exist around your home, whether that's crevices in your foundation or holes in window screens. For foundations, use expanding foam or caulk, keep those window screens in good condition, and affix weatherstripping to the doors that need it.
Next, address the state of cleanliness in your home. Do you rinse jars before recycling them? Or take the trash out before it accumulates? You absolutely should. You will also want to tidy up after cooking to eliminate crumbs and spills, and also keep food stored in sealed containers.
Now it's time to look at water and eliminate any leaky fixtures both inside and outside. You'll also want to shut off shower heads and bathtubs completely after you use them.
Finally, never be afraid to ask for help. Services from a trusted pest professional are invaluable and can create an impenetrable barrier around your home.
For additional ant control support, contact Allswell Here today.
Why You Should Call The Pros About Cockroach Problems In Your Cardiff-by-the-Sea Home
If you've been lucky enough to identify a cockroach problem in your Cardiff-by-the-Sea home, then the best next step to take is to call the professionals. The primary reason why professional cockroach control is so important is because cockroaches have the potential to be very detrimental to your health. Cockroaches leave behind shed body parts, droppings, and saliva that are all linked with the spread of E. coli infections, salmonellosis, and gastrointestinal diseases. Additionally, cockroaches can irritate allergies and asthma and even leave you with increased stress.
Professional assistance is the fastest and most reliable method of eliminating cockroaches because not only do these pests hide from humans, but they also can also live for extended periods of time without food and water, which gives them no reason to leave. Cockroaches also reproduce quickly, laying nearly 150 eggs a year, which makes them difficult to eliminate. Not to mention that the most common species, the German cockroach, is immune to many pesticides, making professional cockroach control in Cardiff by the Sea a must. For more information on cockroach control in Cardiff-by-the-Sea, call Allswell Here today.
Schedule Your Free Inspection Now!